My good friend Graeme Lewis and I drove up to Echelon Citizen Spy Base and Mind Control Centre the day before the protest to check out the layout of the base.
Graeme is also a survivor of Electronic/Psychotronic harassment and attack, and well versed in the use of these weapons against innocent members of the public. After sleeping in the car overnight about 500 metres from the base, we proceeded to the main gate of Echelon at 12.00 noon, where other protesting groups were already getting organised. The three other groups protesting were: Campaign for the Accountability of American Bases (C.A.A.B.), Campaign for Nuclear Disarmament (C.N.D.) and the Menwith Hill Women's Peace Camp.
There were approx. 400 people protesting against Echelon's human rights and freedom abuses.
Project Freedom Network was joined by 2 other survivors of Nuero-Electromagnetic Weapons assault, Marina Findlay and Justin Smith.
The day was blessed with a number of speakers including Lindis Percy and Anni Rainbow from C.A.A.B., Dave Web from C.N.D. and also Mark Thomas from Channel 4 TV who as always points out the "corrupting ignorance" of the establishment in a very humorous way. I personally took the opportunity to speak to Mark telling him briefly about Project Freedom and our dedication to expose the use of Mind Control Weapons on the public by the intelligence services.

At approx. 2.00 p.m. most of the protesters proceeded to walk around the perimeter road of the base, armed with their peace banners and freedom chants.
A number of times during the walk many of the protesters (around 200) would "mass-trespass" by leaving the road and cutting across the fields (owned by the MoD) that surrounded Echelons high-security razor wire fence.
A Video photographer (who is currently producing a video documentary on Remote Mind Control, based on the work of Project Freedom) and myself decided to trespass along with the others on to the MoD property on our way around the base.
Immediately we entered the M.O.D. property, we both started to feel dizzy, mentally disorientated, emmotionally drained, physically weak, lethargic and despondant, clearly symptoms of microwave irradiation.
These symptoms increased in strength even after we left the MoD land, back onto the road and returning to the main gate. (My enquiries to date reveal that no other "trespassers" reported Microwave assault)
I had been planning for many months to take direct action at the protest to expose the Mind Control Police, employed by the intelligence agencies to attack, terrorise, rape and murder innocent members of the public via the use of their electromagnetic weapons. I was also, yet again, hoping to be arrested to get the opportunity to speak my truth in a court of law.
Yet the "zapping" that had occurred immediately as we trespassed onto MoD property had left myself and the video photographer in a very weak mental, emotional and physical state. I personally felt disorientated and incoherent to the point where I could hardly string a sentence together and was starting to resign myself to NOT take direct non-violent action.
However, my good friend Graeme reminded me of the reason we had come to the Echelon protest - TO EXPOSE THE MIND CONTROL POLICE!
Graeme and I then proceeded to the main gate with cans of red paint and Project Freedom flyers. The red paint was to symbolise the spilling of blood, daily, by the intelligence agencies through the use of Psychotronic weapons upon an unsuspecting public.
As I trespassed over the main gate throwing the paint and flyers on the ground, I was immediately grabbed and taken to the ground by about 6 MoD police.
I was then let up and pushed toward the barrier which I had crossed over to trespass, when I proceeded to give a short and sharp speech to the MoD police on the gate.
Video images of the protest and transcript of speech are presently not available due to
our film crew witholding the data due to the fact that the crew and myself were microwave-zapped during the protest.

I was again, to my dismay not to be arrested.
I originally believed that the severe symptoms of microwave irradiation may have been emanating from the masts in the fields as we trespassed onto the MoD property.
I now believe that our irradiation was due to the fact that we were intentionally targeted for a microwave assault due to the fact that I was very openly planning direct action to expose the M.C. P.
| | |
| --- | --- |
| | The MOD property which myself and our potential documentary producer were microwave 'zapped' as soon as we trespassed to stop me taking direct action. |
The intelligence agencies know very well, THAT I KNOW EXACTLY WHO THEY ARE and the real reason for their existence. They also know, I fully intend to publicly expose their sick and perverted psychopathic murdering, raping and paedophile mentality, by the fact that they employ this type of person to operate their Mind Control Nuero-Electromagnetic Weapons, against the public.
The general public have been brainwashed into believing via the 99% intelligence controlled mainstream media that the intelligence community exists to protect our society from murderers, terrorists, rapist and paedophiles.
Project Freedom is dedicated to expose the fact that the intelligence services, namely the U.S. National Security Agency, (N.S.A.), General Communications H.Q. (G.C.H.Q.), Ministry of Defence (MoD) and Military Intelligence (M15/MI6) and their "brotherhood" agencies employ the above type of people to commit their atrocities upon society.
The Intelligence Agencies are the MURDERERS
The Intelligence Agencies are the TERRORISTS
The Intelligence Agencies are the RAPISTS
The Intelligence Agencies are the PAEDOPHILES
| | | |
| --- | --- | --- |
| | | A double barrelled visit at my rural home from the millitary less than twenty four hours after the protest.. or just another coincidence! George Farquhar |
All in all, the protest against Echelon was another powerful day toward the freedom of the human race. I have written a recorded delivery letter to the MoD asking them for a copy of the video tape they took as I trespassed over the main gate at Echelon, claiming the intelligence services to be murderers, rapists and paedophiles. This footage may be used toward the documentary on Remote Mind Control by the Mind Control Police. As obtaining a copy of the footage is my legal right, I expect a copy soon.


---
Protest Flyers: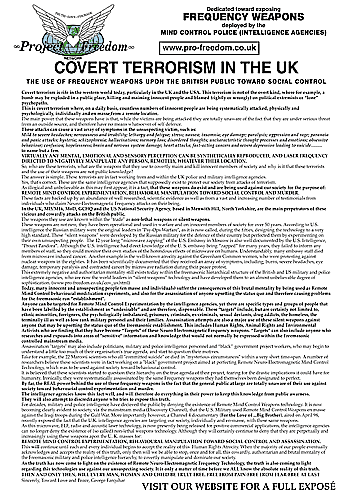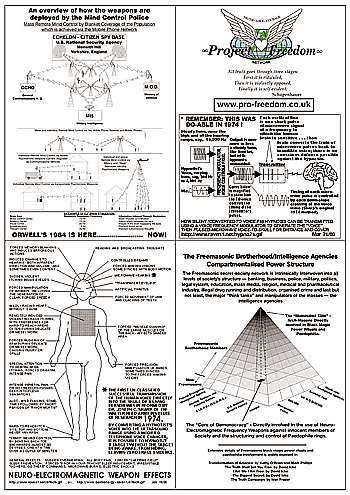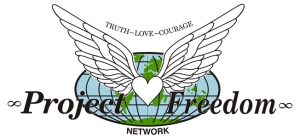 WANTED!
PUBLIC ENQUIRY INTO THE
INTELLIGENCE AGENCIES AGENDA
BY COVERTLY ATTACKING SOCIETY USING
REMOTE ELECTROMAGNETIC MIND CONTROL -
WEAPONS
---
PEACEFUL PROTEST
AT
ECHELON - CITIZEN SPY BASE
MENWITH HILL - NORTH YORKSHIRE
12.00pm Saturday 4th March 2000
A NUMBER OF EVENTS ARE PLANNED TO ENCOURAGE
MEDIA EXPOSURE ON THE DAY AND THEREFORE
PUBLIC AWARENESS OF THIS
HUMAN RIGHTS ABUSE
A REPORT EXPOSING THE NAKED TRUTH ON
THE INTELLIGENCE AGENCIES AND THEIR USE OF
REMOTE ELECTROMAGNETIC WEAPONS ON OUR
UNSUSPECTING SOCIETY HAS RECENTLY BEEN SENT
TO EVERY MEMBER OF PARLIAMENT
---
Original letter from the video film crew expressing their intention to produce a documentary based on exposing the MIND CONTROL POLICE within the Intelligence Servicies
| | |
| --- | --- |
| Hi George, | 9th Februray 1999 |
Thanks for your reply, we are so pleased that your interested in participating in our film.
We would like to produce a one hour documentary focusing in more detail on the issue of remote mind control weapons and experimentation and its covert use by the government. We would like to focus mainly on yourself and the work carried out by you and your associates at Project Freedom. We are also interested in Interviewing any other victims of such weapons and experiments If you are in contact with anyone who would be prepared to talk to us, they could of course speak to us anonymously and if we do interview them on camera we could disguise their identity.
We would be very interested in coming along to your protest at Echelon on March 4th, 1 find it Incredible that the Government should be allowed the right to infringe on peoples civil liberties In such a profound way, policing all private and business traffic across the one medium which is supposedly free and democratic.
Although the issue of Echelon has received some coverage within the national press! this has been far from adequate and nobody has addressed the serious questions of the publics right to privacy or exactly how the government and intelligence agencies are using the reams of information
collected by Echelon.., these are exactly the types of questions that we with your help would like to address.
The next thing that myself and Jon need to do Is submit a quiet detailed proposal for our film, highlighting the intended themes of the film and rough time scale of when we will commence and hopefully complete filming. We will then hear back quiet soon from the production company who are running the series as to weather they will screen the film later this year on Channel Four.
I think that we have a very good chance of being given a slot, the series is especially for student filmmakers and small independent production groups, they are also looking specifically for films which reveal and investigate an area, group or issue within our society which is usually
denied access from cur screens either through a lack of interest from the mainstream media or more to the point the media's policy of censoring sensitive subject matter.
Even if our application is unsuccessful we still want to complete the film and will screen itat various film festivals around the_country~nd try to get the film seen by as many people as possible.
So if you could have a think and get hack to me regarding any_other people ~ou know of who would like to take part it would be greatly appreciated
we will start the ball rolling. This will be an investigative expose style film and therefore anyone would be free to tell us as little or as much as they wished and will not be cajoled in to doing or saying anything they are uncomfortable with...
Sorry this is so long winded do you have a contact number or would you rather I kept using the email address? We will send off a copy of the film as it currently stands.
Hope to hear from you soon, my home phone number is: ......................... if you need to speak to me or please simply reply to the same email address, take care, keep up the good work,
Sarah & Jon x
---
After over two months constant communication with the production crew, previously dedicated to filming the objectives of Project Freedom, we have had no response.
Project Freedoms latest communication (13th May 2000) to the would-be film makers:
Hi sarah,
After over a dozen e-mails, calls and letters to you requesting my manuscript as well as the vidio footage of the echelon protest, with no response from you whatsoever, Iwould have to conclude that you have no intention of sending these on to me because of our microwave "zapping" at the protest. please get in touch a.s.a.p. to inform me either way.
Love & Peace
George
To date still no response!
---
Letters of correspondence between Project Freedom and the Ministry of Defence (M.O.D.) Menwith Hill requesting video footage of George Farquhar and Graeme Lewis trespassing the front gate and delivering our speech regarding the human rights atrocities of the
Mind Control Police against society.

MoD (Security Chief)
Echelon Spy Base
Menwith Hill
North Yorkshire
I am writing to ask for a copy of the video footage that your M.O.D. police officer (No. 4622) took of the protest on 4th March 2000 at Echelon Citizen Spy Base.
I also wish the footage that you took of my person when I trespassed over the maiti gate to expose the murdering, raping and paedophile mentality of certain groups within. the intelligence services. I would be pleased to pay for any costs involved.
Yours sincerely

Toward Love and Peace
---
MINISTRY OF DEFENCE POLICE
Sgt J QUINN
RAF Menwith Hill
Ministiy of Defence Police Royal Air Force Menwith Hill
HARROGATE North Yorks HG3 2RF

MR GEORGE FARQUHAR
PROJECT FREEDOM
P0 BOX 2641
GLASTONBURY
BAG 8XP
3 April 2000
Dear Sir,
I am replying to your letter dated 10/03/00.
We would be happy to comply with your request but you should be aware of the fact that we only took still photographs on the day of the protest and at no time did we record any video footage.
Because several persons trespassed or attempted to trespass at the Main Gate, we do not know what you look like. In order for us to provide you with a copy of any possible photograph, I would be obliged if you would send (using the enclosed stamped, addressed envelope), a photograph of yourself. This together with any possible photograph we have, will be returned to you.
I trust these arrangements will meet with your approval.
Yours faithfully
J QUINN
SERGT 1327
---

13th April 2000
Dear Sergeant Quinn,
In response to your letter dated 3rd April 2000. My associates and myself directly experienced a video photographer standing by the rear right hand corner of the police office, approximately 12 -15 meters from where I trespassed over the main gate.
Under normal, non-life threatening circumstances I would possibly accept your excuses that your video camera man was only filming with a still camera. However as I personally have direct experiential knowledge that all major intelligence agencies, including the US National Security Agency and the UK Ministry of Defence are deeply involved in employing terrorists, torturers, murderers, rapists and paedophiles, I can only conclude that you do not wish Project Freedom to have the video and audio footage of when I trespassed over the main gate and delivered my speech regarding the above.
For your information, there were only two people who attempted to trespass the main gate, and two who succeeded. The other person whom you fully well know of, is Graeme Lewis. As you know exactly who we both are, I have no intention of sending you a photo of myself as you requested. If you do require my photo, may I suggest you contact your brotherhood NSA, or MI5/MI6 who have an abundance of photographs of myself as well as Mr. Lewis.
The NSA have a full catalogue of photographic and audio footage while I was being targeted and tortured via the use of the Electromagnetic Psychotronic Weapons in Canada from July - December 1997. Alternatively MI5/MI6 also have a full catalogue of video and audio footage while I was in Holland from April 9th - June 20th 1998. If you do not already know, during this time I was subjected to 24 hour overt police surveillance, police helicopter harassment, as well as being continually tortured via microwave and ELF phychotronic weapons, by whom I refer to as the Mind Control Police within the intelligence agencies. The methods used were undoubtedly The Electronic Dissolution of Memory, Radio Hypnotic Inter-Cerebral Control along with Silent Sound Spread Spectrum or S-Quad as it is better known.
Obviously your arrangements do not meet with my approval and I strongly suggest you forward me the video/audio footage of Mr. Lewis and myself trespassing the gate. It is our legal right. I am presently awaiting other video footage of the protest which will undoubtedly expose the truth of the matter.
You can be assured Sergt. Quinn, any cover up by the MOD or their brotherhood agencies is being and will continue to be exposed to the public via Project Freedom Network. Whether this cover up be the withholding of video/audio footage evidence or your companys direct involvement in torture and paedophilia.
The prevention of the murder of many people including the horrendous sexual abuse of little children lays firmly in your hands Sergt.Quinn,as it is well documented that senior members of all national intelligence agencies are heavily involved in such revolting activities.
Yours sincerely
George Farquhar
To date still no response!
---
Correspondence to Minstry of Defence, requesting their film footage of the protest:

Chief Officer
Ministry of Defence
Menwith Hill
North Yorkshire
| | |
| --- | --- |
| Dear Sergeant Quinn, | 15/7/2000 |
As you have refused to forward to me the video film footage of myself trespassing the front gate during the protest on 4th March 2000 I now request the stills that were taken during this particular event.
As it is my legal right to obtain this footage I request you forward these stills as soon as possible. I will be pleased to pay for any costs involved.
Yours sincerely

George Farquhar
---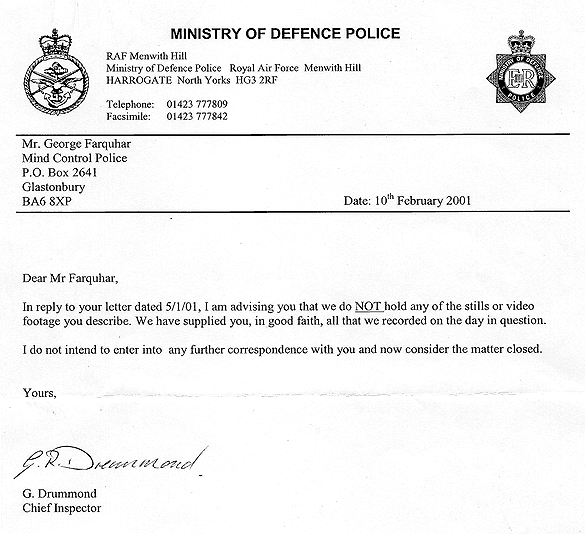 ---

Chief Inspector Drummond
Ministry of Defence Police
RAF Menwith Hill
Harrogate
North Yorks. HG3 2RF

| | |
| --- | --- |
| Dear Chief Inspector Drummond, | 18th July 2001 |
In reply to your letter dated 10th Feb 2001, it has now become obvious to me that Sergeant Quinn and yourself are blatant liars.
YOU DO HOLD VIDEO FOOTAGE OF THE TIME I CROSSED THE BARRIER AT THE MAIN GATE.
YOU DO HOLD VIDEO FOOTAGE OF THE TIME I WAS TAKEN TO THE GROUND BY APPROXIMATELY SIX M.O.D. POLICE.
YOU DO HOLD VIDEO FOOTAGE OF THE TIME I PRESENTED MY SPEECH ON THE INTELLIGENCE HIERARCHY BEING INVOLVED IN TERRORISM AND PAEDOPHILIA.
It is my right by law to have a copy of this footage. It is only a matter of time before the public become fully aware of the atrocities of your hierarchy, and your involvement in protecting them.
As you have no intentions of entering into any further correspondence with me regarding this matter, I will take this opportunity to make myself perfectly clear.
It is my job within the Project Freedom Network to expose the truth of the torturing, murdering, child raping activities of your hierarchy. The new updated version of my personal experiences webpage (http://www.pro-freedom.co.uk/personal.html), to be released soon, will expose this fact.
It is obviously your job to protect your superiors' torturing, murdering, child raping activities.
You, Chief Inspector Drummond and your accomplice Sergeant Quinn have now earned yourselves the title 'Paedophile Protectors' and will be exposed as such on the Project Freedom website. NO CHILD IS SAFE WHILST YOU AND YOUR PSYCHOPATHIC/PAEDOPHILE HIERARCHY EXIST.
Yours sincerely

George Farquhar
---
Project Freedom letter to UK Survivors of Neuro-Electronmagnetic Assaults
informing them of the protest at Echelon Citizen Spy Base.

4th February 1999
I am pleased to inform you of our next protest against the use of psychtronic weapons upon innocent members of the public. The protest will be held at Echelon (US NSA) Menwith Hill N Yorks on 4th March 2000 at 12pm
I fully believe Echelon citizen spy base, to be one of the intelligence agencies directly responsible for psychotronic attacks on individuals as well as the population at large They are also responsible for collecting the data of every attack world-wide in their process for remote mind control experimentation
Project Freedom has presently no intention of organizing any more protests against the use of psychtronic weapons. This may be our final chance to collectively stand up for our right to freedom. I would be grateful therefore if you can support this stand against this major human rights abuse on the day.
There will be at least two independent video photographers there as well as Mark Thomas (Channel 4) to take footage of the event Some of this footage will later be compiled into a video and possibly documentaries on the expose of remote mind control weapons.
Along with Project Freedom there will be other groups participating against Echelon. There are also a number of peaceful events planned to attract media attention and therefore public awareness to this atrocity
If you are interested in supporting please contact me ASAP Love and peace,
George Farquhar
PS - if you have not already done so I would welcome your personal experiences to be posted on the Project Freedom survivor's page. Standing together wW give us strength to empower humanity's freedom. Please send a disc (or a typewntten document if you don't have access to a computer) for this purpose