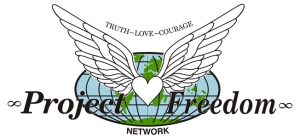 Attention Attention:
ALL UNDERCOVER GOVERNMENT AGENTS
If you truly want to stop ALL acts of Terrorism and Paedophile activities that exist in our world - READ THIS!!
By George Farquhar
This document will be continually expanded and updated
DON'T BE IGNORANT - BE INFORMED!
Due to my Project Freedom Human Rights Campaign of informing the public and government agents at the Big Green Gathering festival in Wiltshire, England. (26th July - 30th July 2000) I gained a deeper and more intricate knowledge of how the intelligence services surveillance network really works.
I witnessed and realised the intricacies of the surveillance structure which uses synthetic telepathy for inter-communication between surveillance agents and their communication control center. "The Trueman Show" technology DOES EXIST and has been an integral tool of intelligence surveillance since 1982. This fact is exposed in the document Covert Operations of the US National Security Agency when John St. Clair Akwei successfully took legal action against the US National Security Agency for torturing him with their Frequency Weapons toward behavioural control.
The only reason that terrorism and paedophilia exist in this world is because "YOU" consciously or unconsciously support it! This is a fact. Your Paedophile hierarchy and the 'Core of Rape' within your organisation can ONLY exist if YOU continue to do the job you do. If you want to stop Terrorism and Paedophilia once and for all, take a good look with an open heart and an open mind at the structure of control and manipulation against society, that you are involved with and presently support.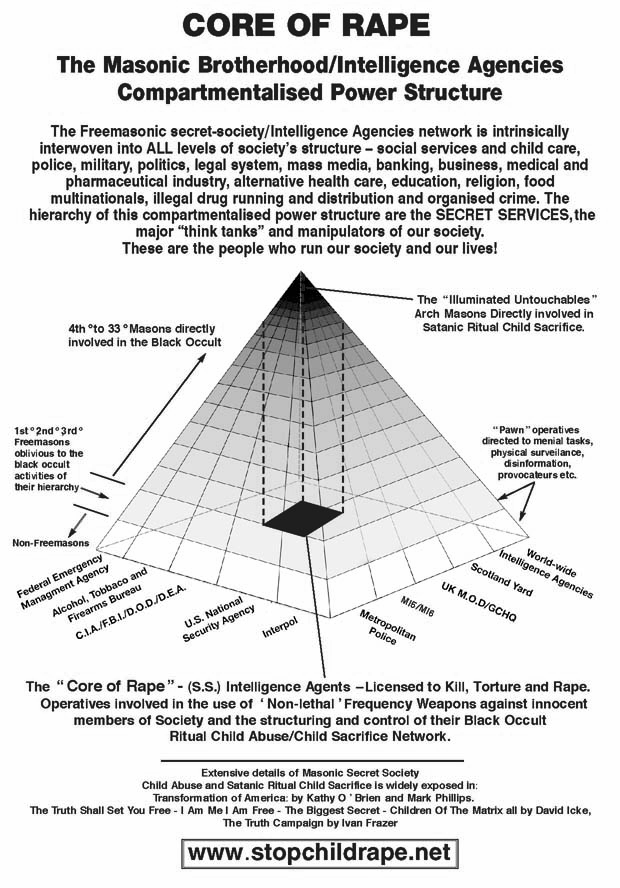 Below is a brief expose of George's experiences at the Big Green Gathering festival which at its core is run by the Freemasonic intelligence services and NOT by free-spirited, open-hearted individuals, as is supposed to be the case. These experiences gave him a deep and intricate understanding of how the intelligence agencies work and in essence, how pathetically weak and self-destructive their structure of control over society really is.


As this document is expanded, it will include a full expose of :


My several hour conversation with under-cover government agent "Lawrence"
who is directly involved with the structure and control of Paedophile rings within this
organisation and perpetuating torturing and terrorising attacks on innocent members of the
public via the use of Neuro-Electromagnetic Frequency Weapons.
---
The reasons why the intelligence network specifically employs Paedophile and
sexual deviates to deploy Frequency torture and murder weapons upon the public.

---
Details of why I was assaulted by being punched in the face, thrown to the ground and threatened "You're going to be topped". This assault was perpetrated by under-cover government agents working in the "One Stop Thali/Indian Spice" Cafe
at the Big Green Gathering Festival, whilst I was handing out Project Freedom information flyers on the use of Frequency Weapons against the public.

Several days after the assault


THE PAEDOPHILE PROTECTORS
The agent in the orange instigated the attack
and threatened me "you're going to be topped".



THE PAEDOPHILE PROTECTORS


Three of the six agents who attacked me after exposing their hierarchy as paedophiles.
---
My encounters with agent provocateur freemasons who were disseminating dis-information. This includes my in-depth conversation with the Freemasonic manager of the Green Party tent at the BGG. I told him how and why his Freemasonic intelligence network is absolutely and categorically destined to be totally liquidated out of existence within the very near future. This also includes my conversation with the freemason paedophile who was disseminating dis-information leaflets at the BGG. Contact www.thewarpexperience.org/gvn for his bullshit dis-information website.
---
How I have an in-depth understanding of the following types of agents who approached me. This includes low-rank members of the intelligence services, higher initiates who are granted knowledge of top-secret synthetic telepathy communication, as well as Paedophile/Frequency Weapons perpetrators.
---
My encounters with a group of young student 'intelligence pawns'. One arrogant 'pawn' (who looked about 14) tried to provoke me into selling him hashish. This was an obvious setup attempt by your hierarchy to cover up their own involvement in selling hard drugs to children, which I expose in George Farquhar Arrested at Glastonbury 2000.
---
Why your 'brotherhood' intelligence organisations employ massive
amounts of students, and drug dependants as surveillance agents and agents provocateurs.
---
How and why your organisation is destined to be destructured and
totally neutralised out of existance in the very near future, exposing every member and any atrocity they may have perpetrated, throughout the public domain.
Full expose at the new Project Freedom website The Stop Child Rape Network
---
How YOU can get out of your organisation and stop the horrendous
and disgusting terrorist and paedophile activities of the Freemasonic Hierarchy
Structure and the 'Core of Rape' within your organisation that you presently support.
To do this, YOU must stand in ABSOLUTE TRUTH and not be manipulated by your hierarchy,
what to "think", what to "say", where to "go", what to "do" and "how to act". As long as you are being manipulated like a brainwashed robot by your hierarchy you will
NEVER stand in your OWN POWER.
Not acting like a brainwashed robot, and standing in your OWN POWER means:
NOT being manipulated and controlled by ANYONE ELSE and having NO desire whatsoever to manipulate and control ANYONE ELSE either.
YOU CAN break free from your programmed "initiation"
within the Freemasonic brotherhood intelligence agency structure.
To do this you must find the courage deep within your heart to
face the reality of the truth of the terrorist organisation that you presently support
THEN AND ONLY THEN WILL YOU BE ABLE TO STAND
IN ABSOLUTE TRUTH AND STOP THE HORRENDOUS AND DISGUSTING TERRORIST AND PAEDOPHILE ACTIVITIES OF YOUR HIERARCHY - INSTEAD OF SUPPORTING IT!
---
As you will know, although you have been dis-informed by your controlling hierarchy that
I am a suspected paedophile, this is absolute and total BULLSHIT!
I AM NOT A PAEDOPHILE AND NEVER HAVE BEEN!
If you truly and whole heartedly desire to stop all paedophile activities
in our world, once and for all, take a good look at the organisation
you work for and support.
DIVIDE AND RULE DOES NOT WORK!
COURAGE AND A POWERFUL DESIRE TO REALISE THE TRUTH DOES!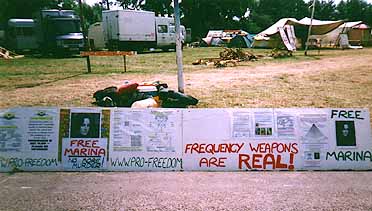 DON'T BE IGNORANT - BE INFORMED


---
BIG GREEN GATHERING FESTIVAL
Government Agency Surveillance Expose
PART 1
The Big Green Gathering Festival, held during 26th - 30th July in Wiltshire, England, is a yearly event where thousands of people gather together in harmony.
Well, that's what it is supposed to be, yet I personally experienced a somewhat different event to what I expected, encountering the darker element of the festival. This was namely a mass overkill of undercover government surveillance agents and agents provocateurs infiltrating the festival.
I arrived at the festival on the 27th of July 2000 for the purpose of setting up an information stall to disseminate information and awareness to the public on the horrendous activities of the intelligence services. These agencies who supposedly exist to protect society are directly involved in torturing innocent members of the public via the use of Neuro-electromagnetic Frequency Weapons and the structuring and control of their own paedophile organisations.
I also planned to inform the public of the constant frequency torture of Marina Findlay who has recently been incarcerated against her will into a psychiatric hospital to stop her Free Marina Campaign.
Soon after arriving at the festival I realised I was under 24-hour surveillance by undercover government agents. This was not in the least surprising since my objective for being there was to inform the public of 'intelligence' involvement in torturing and murdering innocent members of society via the use of frequency weapons for the pupose of social control, as well as running their own paedophile rings.
Although I encountered enough sleazy undercover events to fill a book, an overview of some of the experiences I witnessed follows:
Several undercover government agent provocateurs 'acting' drunk, pushed past me to enter a large tent where there was a musician playing 'chilled-out' music.

I observed these 'drunks' were in fact completely sober, yet were continually harassing the artist who was playing as well as directly harassing members of the audience. These low-level intelligence goons were clearly agent provocateurs sent in to disrupt a peaceful gathering. This pathetic and cowardly event was the first of many I was to witness at the festival.

It quickly became obvious to me that as we were in the heart of UK military territory (Warminster) the BGG Festival was not about free-minded open-hearted people organising a festival to come together in harmony. It was about the 'Big Brother', Freemasonic intelligence system running a so-called free festival so they may be able to surveillance and attempt to keep control over those who may have a mind of their own. The biggest threat to the establishment are those of us who are fully standing in their own power and not being brainwashed or manipulated by the social structure that has been engineered to create fear and ignorance in society.

THIS PAGE WILL BE EXPANDED UPON
---
PAEDOPHILE DISINFORMATION - RITUAL CHILD ABUSE & MURDER
NETWORK COVER-UP EXPOSE
For an in-depth look at your network's agenda,
and how you will be destroyed by total public awareness of your atrocities:

stopchildrape.net
---
REMEMBER:
AS LONG AS YOU ARE A PART OF GOVERNMENT INTELLIGENCE SERVICES
YOU WILL FULLY SUPPORT TERRORISM, CHILD RAPE AND MURDER.