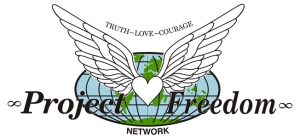 Results of Peaceful Protest
at the House of Commons.
WANTED!
PUBLIC ENQUIRY INTO THE
INTELLIGENCE AGENCIES AGENDA
BY COVERTLY ATTACKING SOCIETY USING
REMOTE COMPUTER OPERATED
NEURO-ELECTROMAGNETIC MIND CONTROL WEAPONS
SUCCESSFUL PEACEFUL PROTEST
AT
THE HOUSE OF COMMONS, LONDON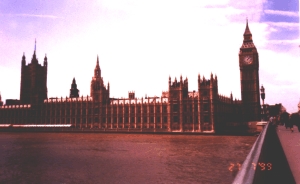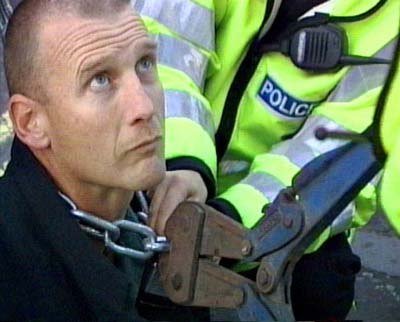 12-00PM TUESDAY 19TH OCTOBER 1999
A NUMBER OF EVENTS WERE PLANNED TO ENCOURAGE
MEDIA EXPOSURE ON THE DAY AND THEREFORE
PUBLIC AWARENESS OF THIS ATROCITY OF
- HUMAN RIGHTS ABUSE -
A 66 PAGE REPORT EXPOSING THE NAKED TRUTH ON THE INTELLIGENCE
AGENCIES AND THEIR USE OF
REMOTE MICROWAVE WEAPONS ON OUR UNSUSPECTING SOCIETY
WAS SENT TO EVERY MEMBER OF PARLIAMENT.

THIS REPORT WAS ALSO SENT TO APPROX 500 MEDIA,
HUMAN RIGHTS ABUSE, HUMANITARIAN
AND SOCIAL SCIENCE ORGANISATIONS

HUMANITY TOWARD FREEDOM!
RESULTS OF THE PROTEST

The protest was in general a great success in exposing the fact that the military and police intelligence agencies are in fact terrorist organisations who are responsible for the mass murder and attempted mass murder of countless innocent civilians.

Many members of the public took a deep interest in what we had to say. We were also approached by people from overseas who expressed that they had knowledge that the same atrocities were being perpetrated against society in their own country.


The protest was well supported by around 15 people. Some who claim psychotronic attacks on their being, and others who know that these atrocities are going on and wish to expose this fact.
There were two independent video photographers present. Their footage is currently being edited along with further material into a full length video on the use of psychoctronic weapons against society by the police hierachy and intelligence agencies.
Any interested parties, such as the Media, Human Rights Abuse, Humanitarian and Social Science Organisations as well as Truth Activists will be very welcome to a copy by contacting us directly.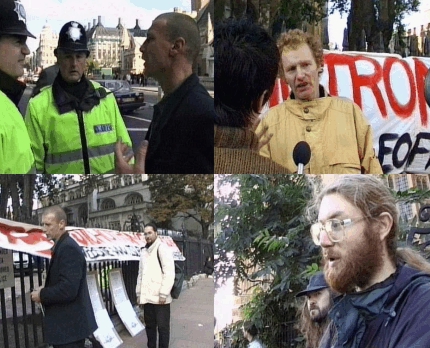 One of the negative aspects of the protest was that I was expecting to be arrested and imprisoned by chaining myself to the railings outside the House of Commons. My intention was, that once arrested and imprisoned, I would go on hunger strike until there was a public enquiry into the military and police intelligence agencies and their use of psychotronic weapons upon our unsuspecting society.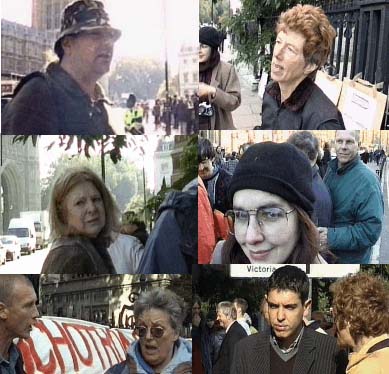 It soon became obvious that after chaining myself to the railings and subsequently being cut free (twice) that I was not to be arrested.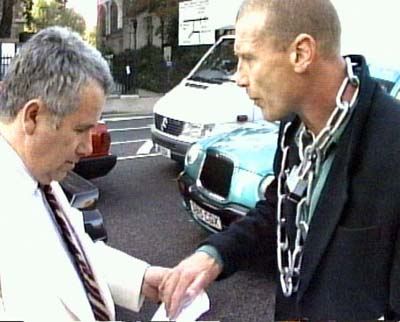 Even although I am regarded by the authorities, including Interpol, that I am a fugitive from Australia and should be deported to "pay for my crimes against society".

For several months now, I have been advertising in the alternative press, the aims of Project Freedom Network to expose and stop the psychotronic attacks upon society by the Mind Control Police within the military and police intelligence agencies. Project Freedom Network has also been exposing these facts on the web for several months now without any visits from any authority to question me on my allegations regarding the abuse of the intelligence agencies against society.
Why, Why, Why, have I not been arrested? Or at least questioned on my allegations?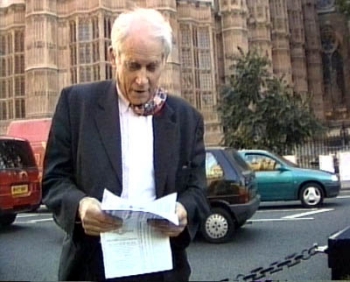 The answer is simple. The real criminals in this matter are the Police & Military Intelligence Agencies and their controlling hierarchy. They do not want their atrocities against society to become public knowledge. More importantly, they do not want the public to realise that we, society as a whole can very easily stop this major atrocity of Human Rights Abuse.
We can stop these atrocities once and for all by each and everyone of us "seeing" and acknowledging the "Big Picture". This can be done by researching into the abundance of evidence on the engineered events which are being perpetrated behind the facade of our so-called democratic system. The information exposed on this website is only a tiny tip of a massive iceberg of information that is widely available to everyone. We only have to look.
The "attitude" of this research must be done with an open mind and an open heart and a deep and genuine desire to find out the truth.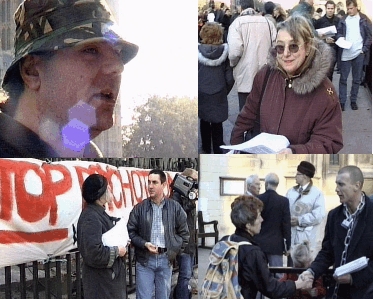 Without this "attitude" the truth will not manifest itself.
With this "attitude" the truth will not only manifest itself but the solution to this problem will also become clearly apparent.
The solution is that the majority of society must see the "Big Picture", of what is really going on. When enough people within society see the "Big Picture", the "Hundredth Monkey Syndrome" will automatically take effect and the atrocities that are being engineered and executed against the human race by the intelligence agencies and their controlling hierarchy will be no more.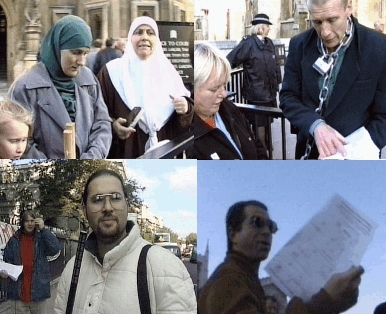 Their "illusion" of power and control over humanity exists, only because society as a whole are presently unaware of the "Big Picture".
By seeing and acknowledging the "Big Picture" we can immediately take our power back and therefore actively deal with this problem with courage and wisdom.
More on the solution toward freedom for humanity is on our page "We Will Be Free At Last".
A Legitimate Protester
or an Agent Provocateur?
---
ATTEMPTED MURDER ON ALEX FARQUHAR,
BY THE MIND CONTROL POLICE WITHIN
THE AUSTRALIAN INTELLIGENCE AGENCIES.
Another negative aspect of the protest, is that my brother Alex, who lives in Australia, has recently had the psychotronic attacks against him (which started last year), severely increased.
My brother is a direct witness to the many events of police harassment and intimidation which I have endured over the years. I believe that the Australian Intelligence Agencies have been intending to either murder my brother by driving him to suicide or make him so psychologically unbalanced that he cannot testify to these facts and support my claim.
I believed that the Project Freedom Protest event would force the Mind Control Police in Australia to either back off from attacking my brother or they would try to kill him outright. After recently receiving a call from my father in Australia I realised they now intend to murder Alex outright.
My father told me that Alex has recently been so severely attacked by the Mind Control Police that he may have to be administered to a psychiatric hospital for his own safety.
If Alex, due to these psychotronic attacks becomes permanently psychologically imbalanced or is driven to suicide, the Australian Police hierarchy and intelligence agencies will be directly responsible.
I appeal to any Australian Investigative Reporters who genuinely intend to find out the truth to contact me, and hopefully help expose the atrocity of this matter and save the life of my brother.
More details on why my brother is a victim of psychotronic attacks on:
My Personal Experiences of being targeted along with my seven year old daughter as a Remote Mind Control Experiment by the Intelligence Agencies.
---
One week Prior to the protest the following letter of correspondence was sent to
EVERY Member of the UK Parliment with a 66 page report,
"The Naked Truth on the use of Remote Control Weapons against Society"


13th October 1999
Regarding the Human Rights Abuse against society
by the Intelligence Agencies
Dear Sir/ Madam,
I wish to inform you of the major human rights abuse that is being perpetrated against society behind the facade of our so-called democratic system.
Presently, this atrocity is virtually unknown to the masses of the public due to the covert nature of the attacks against us.
The life and freedom of every man, woman and child is in extreme danger, unless we, as a human race, collectively see and acknowledge the depths of this problem, and challenge it with courage and wisdom.
Enclosed is a report exposing this Human Rights abuse against humanity by the Intelligence Agencies. It has to change - it will change - Please see to it that it does change.
Looking forward to your reply Yours sincerely,
George Farquhar
To date still no response!
Since the MP's and over 500 organizations have received my report the
Project Freedom web site stats jumped a staggering 3000%, and has steadily increased!
---