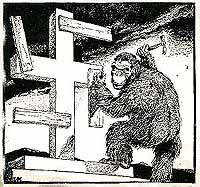 "Public Law 99-570, the Controlled Substances Analogue Enforcement Act of 1986, boldly penetrates into areas of governmental control over research undreamed of by any National Socialist ("Nazi"), Communist or other dictatorship; presuming to declare any "human research with new drugs" unlawful unless explicitly approved by the federal government! The situation has degenerated to such a point that the late federal Judge J.G. Burciaga, in ruling against the United States government in a criminal case involving drug law, stated:
"The tattered Fourth Amendment right to be free from unreasonable searches and seizures and the now frail Fifth Amendment right against self-incrimination or deprivation of liberty without due process have fallen as casualties in this 'war on drugs' ... today, the 'war' targets one of the most deeply held fundamental rights—the First Amendment right to freely exercise one's religion." [774F.Supp.1333(D.N.M. 1991)]
While the original impetus for anti-drug legislation in the U.S. involved questions of imperialistic struggles for world dominance, not to mention economics and racism, it triumphed on the tide of reformist zeal of fundamentalist religious minorities intolerant of diversity. Albeit tricked-up as 'Public Health Laws' addressing so-called 'crimes against health,' contemporary drug prohibition is merely the modern expression, disguised by secular circumlocutions, of the millennial Pharmacratic Inquisition, as Justice Burciaga sagaciously noted.
We must not lose sight of the fact that, like the decree of the Spanish Inquisition in Mexico in 1620, contemporary drug legislation, whatever its justification, inexorably has the effect of prohibiting ecstatic, experiential religion while simultaneously promoting exsanguinated, desacramentalized simulacra of religion. The secular American state is clearly comfortable with purely symbolic, Christian non-religion, but feels rightly threatened by ecstatic religion grounded in individual religious experiences, which lead people to examine their own assumptions and motivations, and those of their churches, and those of their governments - the difference is between blind obedience and eternal, sceptical questioning and distrust of authority.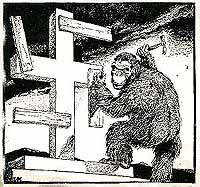 Not only is the Pharmacratic Inquisition alive and well on the threshold of the new millennium, but it has been enshrined in the secular law of one of the world's most secular states, whose Constitution respects individual freedom, and is being used as a pretext, not merely to attack ecstatic religions, but to attack scientific research and the very Bill of Rights to that Constitution, destroying at once religious freedom, scientific freedom, and the juridical guarantees protecting citizens of the United States from governmental arrogance and tyranny!" Jonathan Ott, The Age of Entheogens & The Angel's Dictionary