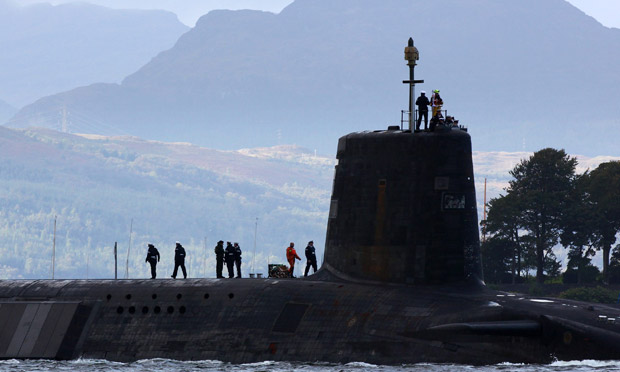 Say the British public is given a hypothetical choice. They can choose Nigel Farage and UKIP to keep all British money in this country, not give out foreign aid, and get out of the EU and keep all our money and jobs for British people instead. Or they can choose Mark Jacobs who would not renew Trident (just keep what we've got, maintained), and use the £100 billion to improve the NHS, the education system, and technologically upgrade the British infrastructure. That choice is coming in 3 months time, and I am not standing because it would be a waste of time! Farage, have the podium, you ignorant British bastards!

Don't worry - Farage et al want to spend your money on Trident renewal too. If we already maintain a nuclear deterrent that is capable of total annihilation, why, then, do we have to spend money we haven't got, on a new system that does exactly the same thing? Explain please!

So, I wrote to my local MP Bob Blackman (Conservative), and he told me that the renewal was necessary to stay abreast of the technological developments in modern warfare and terrorist threats. He seemed unaware of the fact that the UK can blow the world up 3 times over with what we already have. So, I wrote back :-
I received your reply to my email, and I'd like to take this opportunity to pick up on a couple of points you raised.


We already have a nuclear deterrent. It would cost much less to simply maintain it, than to renew it. The cost of £100 billion for renewal would be dwarfed by a cost of £10 million a year to maintain what we already have.
The British public is already feeling the pinch of austerity measures taken to bail out the misappropriation of bank funds by unscrupulously greedy people in a position of power with the UK public's money. This manifests itself in the inability of people to purchase items, unless they are necessities. Luxuries have to take the "back burner" for the moment. Introducing a hefty bill for Trident renewal (albeit in stages over the next 10 years), is folly of the highest order. It's as if you want to collapse the economy. Struggling businesses will fold because their services will not be deemed a necessity by the broke British public, whose taxes will increase to cover the cost of renewal. We will have no spare money at all, in order to kindle a resurgence in the new businesses this country so desperately needs right now.

In a new world connected by the internet, the majority of people worldwide, simply want a peaceful and safe place to bring up their families. We all know that there are a few bad apples who would ever consider using weapons to murder strangers for a cause, and that we, by far the majority, have to suffer because of these few bad apples, because our leaders see fit to perpetuate the creation of evermore effective weaponry. It is a never-ending vicious circle with one ultimate outcome - that of death for billions because of ideas in someone's head. Please stop the manufacture of weapons, the exporting of these to unprincipled regimes, and the deployment of these in countries whose mineral wealth you seem very interested in all the time. Please stop!
I have had no reply as of yet.